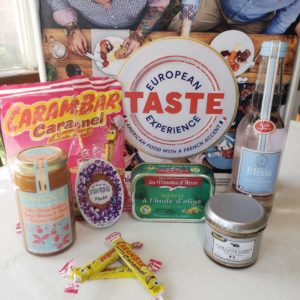 I fell in love with Paris last spring when I went on my first European tour and I have been dreaming about visiting the romantic city in the future.
With the busy humdrum life back at home, it seems that my dream of visiting any time soon might be harder than I thought.
Thankfully, The French Food & Drink Federation has sent me some of France's fall favorites to help me cope with my withdrawals until I visit once again!
My box of goodies came with a caramel sauce that I paired with my apples for a light snack.
The rich marmalade which I had generously spread on my toast, brought back that peaceful morning park stroll when I stopped for a coffee and pastry breakfast.
The Carambars were candy bars I bought frequently while we were in Paris, in which we would chew on as we walked down the Parisian streets.
The lovely organic lemonade with a hint of wild strawberry was mixed perfectly with my cocktail that accompanied my lunch I made. I sauteed the Olive Sardines and spread some of the Pork Liver confit with black pepper for the first time on some crackers. It was indeed a new flavor and delicious, to boot!
And now, after every meal, I always remember to pop an Anis De Flavigny mint to lace the sweetness of anise and floral notes of violets, it's definitely a unique flavor reminding me of beautiful France!