You ever wonder, where is a fun place to grab some grub and libations in downtown? Welp, Mezcalero is the place! They take the time to wizard their way through concoctions of Mezcals and surprises.
There is even a special of the day in which the libation wizard finds a unique something from the local farmer's market and whips up something unique just for the day! On our particular day, the surprise drink of the day was infused with a type of vegetable in the broccoli family, this drink was definitely unique and hinted of magic from the root wonders of a gnome forest! I slurped and sipped this alongside an array of scrumptious bites! I am a pescatarian and still had plenty to gorge upon! My absolute favorite of the night was their Elote corn on the cob! On first glance the cob had a slight layer of char throughout so when I bit into the juicy and perfectly crisp and flavorful cob of corn I ever ate, I was incredibly pleasantly surprised! The mixture of cheese and toppings melded well with one another.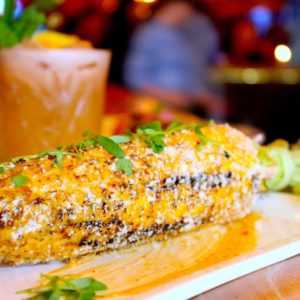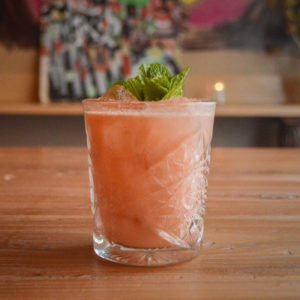 The tofu taco was a curry take with complimenting veggie toppings and the Brussels sprout taco was ensconced in a warm bath of the yummiest cream sauce! Their guacamole and salsa tasted of fresh and just chopped preparation which went down smoothly with a myriad of libation delights with the flavor profile, from spicy to delicately sweet and refreshing.
The absolute favorite of the night for the meat eaters in my clan was the fried chicken and watermelon taco! It was so tasty that apparently, I looked sad when my friend was describing how good it was, that she backtracked and said it wasn't that good, to make me feel better lol!
Throughout the night there were various hoots of fun yelped into the air and comradeship between strangers with a look into the eyes of a stranger and a happy belch of laughter! The manager was present to say hello and give us the inside scoop to some of their inside secrets…just kidding no secrets, you just ask and you shall receive! We ended our adventure with my 2nd favorite scrumptious delight…the churro balls lightly drizzled with chocolaty goodness. The churro balls were giant morsels of warm melt in your mouth goodness!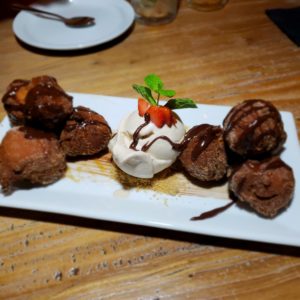 I definitely saw myself coming back to just eat that for my meal, no sharing lol. My clan and I left filled to the brim with jolliness in our steps as we left with the intention to return again and again!
– Amy R.
https://www.yelp.com/biz/mezcalero-los-angeles-2
Happy Hour 3-7pm every day, so you will be HAPPY every day!