In a time where the elite still like to make it apparent that they are of a different stature then you, by the ambiance of their dining that is rather stuffy and estranged from the warmth of a local pub. Sake Dojo does a wonderful job providing the service and quality of upscale dining with the warmth of atmosphere and aplomb of a seasoned favorite pub! Sake Dojo is a new extension of Far Bar right next store, but where Far Bar is Asian fusion and beer focused, Sake Dojo is Japanese cuisine and Sake/cuisine pairing focused. They provide literature with the name/description of each sake and your server patiently takes you through the details of which sake gets paired with which dish and why.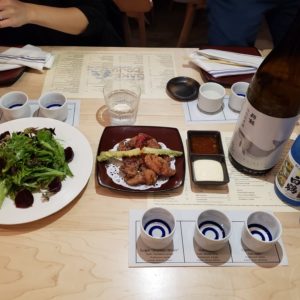 Besides being a story weaver of the "sake" sort, Sake Dojo takes it a step further by being the first restaurant in L.A to use the Argon gas pressurization technique that is usually used in the wine industry, to preserve sake for up to 5 to 7 days! I can tell they really put a lot of care into melding the future with the past. Sake Dojo's sushi bar is made from a zinc stone that slowly cultivates a beautiful Patina over time. Zinc bars are a forgotten part of Japanese restaurant interior design that the owner of Sake Dojo hopes to bring back.
As the night progressed we had a litany of cocktail drinks all of which the bar manager explained the inspirations of, that could be found from the posters on the wall to the food on your plates! Each drink is created through at-least 3 layers of transformations from smoke saunas to delicately placed edible flora! There were seriously drinks for every discerning palette and then some! I highly suggest you take a trip to the bar to watch your drink being created right in front of your eyes, you won't regret the free show! The atmosphere was casual, yet upscale and serene. One won't be abashed to have a couple belly laughs and have a bustling great time for dinner here! I can't wait to come back
for more Sake and Salad! P.S. The Edamame with the fresh homemade buttery bread was to good to hold back from eating the whole plate!