One of my most inspiring trips to Asia was my trip to Japan where I was first introduced to Themed Restaurants. My friends and I went to one almost every night, leaving a huge hole in our wallets, but we were super intrigued that the Japanese can make anything into a restaurant. From an office space to a ninja inspired themed, I was incredibly saddened that I didn't have extra days in Japan to experience more!
Flash forward to 2016, I attended one of the most controversial themed restaurants, in none other than the San Gabriel Valley. Private Party Restaurant, a seemingly inconspicuous name, where you are greeted and served by troops in green uniforms wearing red starred hats. Walking in, you will see tons of spices hanging around the restaurant with posters of the communist party when Mao Zi Dong was in office.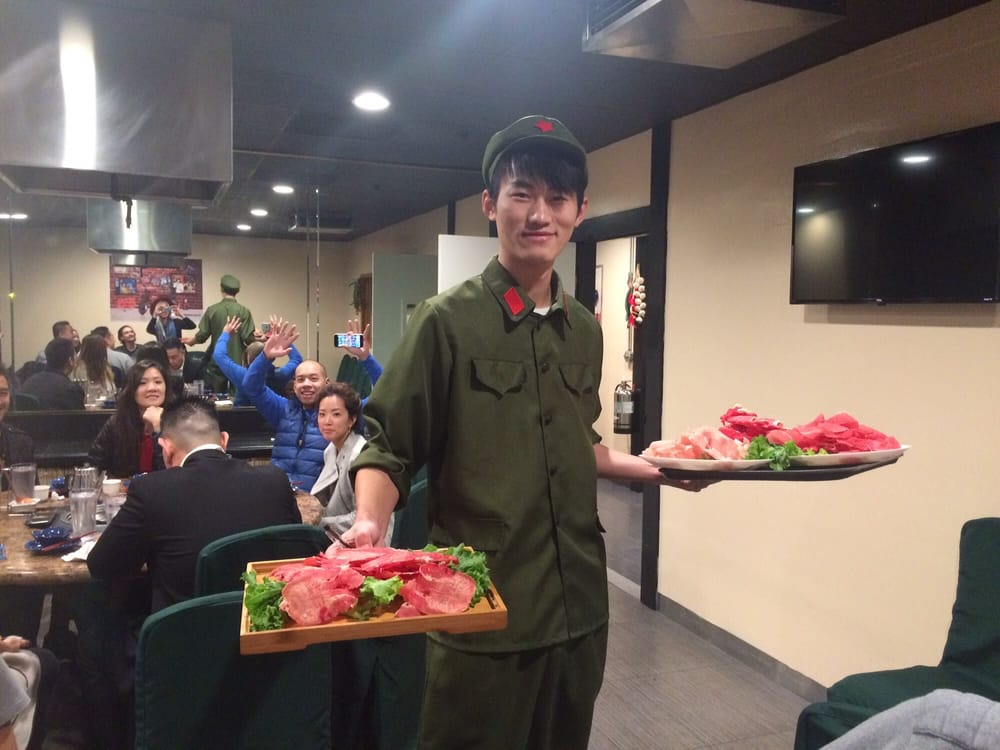 To be frank, the idea of it was a bit daunting but when you really think about it, its pretty genius! The more controversial a situation is the more people are going to flock, plus if the food is amazing why wouldn't you give it a try and laugh at the idea. Private Party is actually not set on keeping the Communist theme forever, in fact they may even switch it up from time to time with the holidays.
Having only been open for 2 months the service is great, especially when dining in the 626. The San Gabriel Valley area, in which case is known for their authentic cheap Chinese food with a hint of elbow grease, a few dirty looks and rude responses as the cherry on top. I love how patient and quick they were on bringing out everything we asked for. Accommodating a big group is never an easy task so having at least 3 servers going back and forth every few minutes is a smart tactic on making diners happy.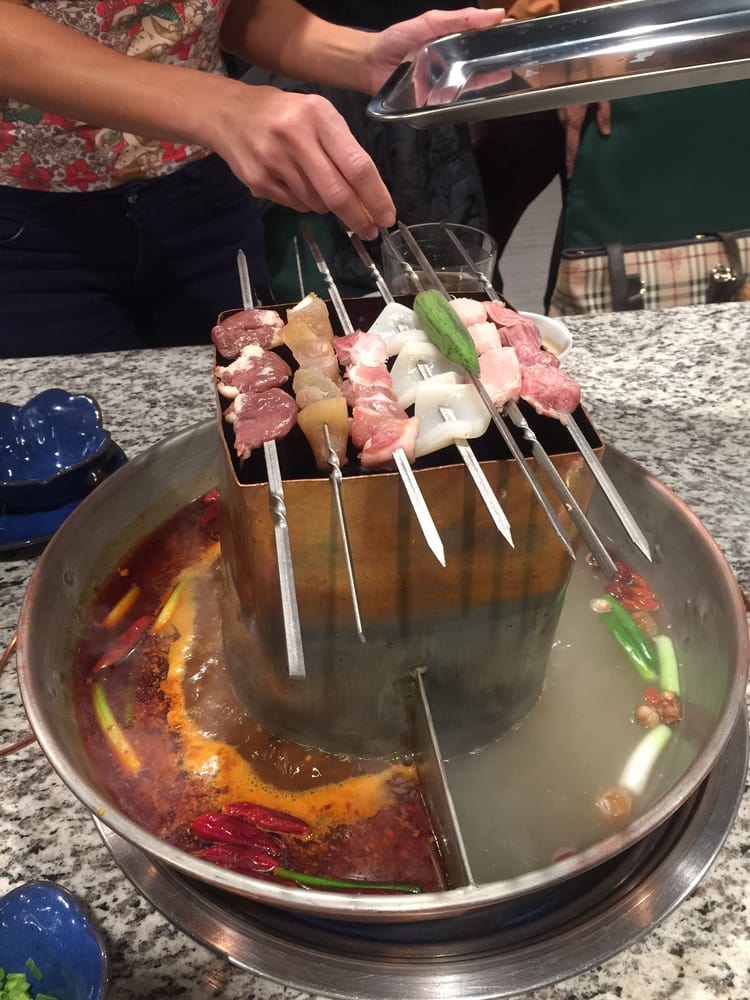 As a hotpot lover, I've seen many different types in my days. The pots with dual servings, a contraption where its smaller on top and big on the bottom and personal hotpot where all your toppings already placed inside your pot. Private Party came up with an even more innovative idea, where it is not only a dual pot where you can try 2 different broth flavors, but with the added bonus of a grill placed directly in the middle which houses hot coals, making it also a grill to bbq skewers with different cuts of meat or veggies. So whether you want your items it in the soup or grilled, the options are never the less mouth watering!
The massive amount of selection from lamb, frog legs, premium beef and seafood to an array of vegetables is what takes the cake. I was so happy they had vegetables that I typically never see at other hot pot places like A Cai (a Chinese spinach) and vegetable fish balls. The fact that they had more than just vegetables for vegetarians is amazing on its own. The tomato soup broth was liked not only by the vegetarians, but also the carnivores as well. It was just the perfect cooked tomato soup with a hints of different vegetables that were cooked within the pot. They actually have a mushroom broth as well, that I didn't get a chance to try but will definitely have to make the journey back for. The idea of making your own sauce concoction is what makes Private Party stand out more than the "Commies". The rows of containers filled with sauces of sesame and peanut to Chinese barbeque and simple soy sauce (they also had minced garlic, green onions and more) makes you feel as if you are some sort of Top Chef finding the perfect dipping sauce to pair perfectly well with your Hot Pot of Gold!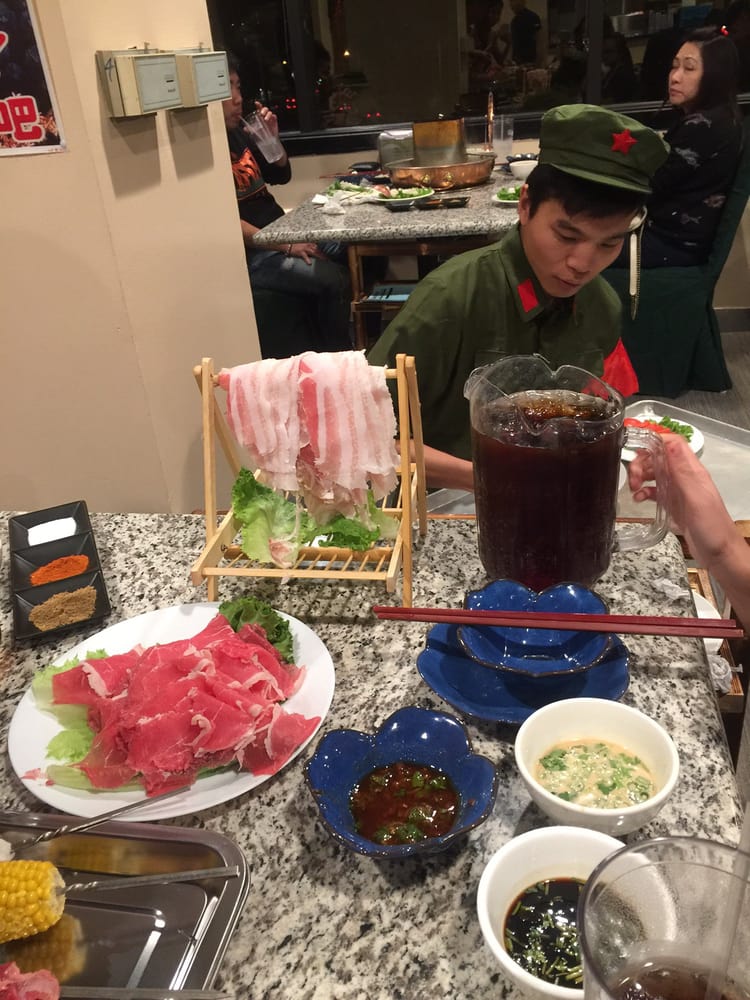 Private Party Restaurant is located on the third floor of Atlantic Place Shopping Center at the corner of Atlantic Blvd and Garvey Ave in Monterrey Park. It's a great place to enjoy hot pot and skewers with a companion or group of family and friends. Happy eating!